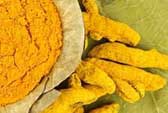 The Turmeric plant produced mainly in India has a vast array of health benefits that modern medicine is only beginning to realize and investigate through clinical research. It has been used in the Chinese and Indian system of medicines for thousands of years, and those populations have reaped significant benefits from the herb. It is commonly used as spicy flavoring and bright coloring for healthy food which provides significant health benefits.
It is widely known for its potent anti-inflammatory, antibacterial, and antiseptic capabilities. It is also recognized for its ability to make skin glow and help skin problems by lightning them. It acts as an excellent source of vitamins and minerals such as magnesium, iron, and B6 for a healthy diet. The active ingredient in it is curcumin, which is thought to produce these extraordinary benefits.
Turmeric Benefits
Preliminary scientific research is not extensive but there are hopeful findings regarding turmeric health benefits. Such as its ability to:
Help reduce stomach and digestive problems, such as bloating, gas, and indigestion
Reducing pain from arthritis
Help reduce the risk or slow cancer such as childhood leukemia, colon and prostate cancer
Lower cholesterol levels, and keep bad cholesterol from building up by improving liver function
Lower diabetics blood sugar levels
Help people with Cystic fibrosis
Help prevent heart disease, heart attacks, and strokes
Protect against degenerative diseases such as Alzheimer's disease
There are many health food options to try with the spice. You can put some in your stir-fry and lentil dishes or use it to add spice to meats such as chicken, lamb, and fish. There are more ways to incorporate turmeric into your healthy food diet than just using it in curries. Use it to add flavor to vegetable such as broccoli, celery, cauliflower, green beans, potatoes, and onions. Enhance the flavor of eggs whether in an egg salad or omelet. Mix it to create an excellent flavored butter, sauce, mustard, or salad dressing. Create a delicious appetizer adding it to cheese or sauteed apples. Make a fun side dish by adding it to rice or soup. You can even mix it with tea or deserts.
How to Squeeze the Maximum?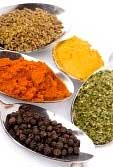 To get the maximum health benefits of turmeric, mix it with oils such as extra virgin olive oil or coconut oil and use fresh ground pepper. Serve with raw vegetables from the cabbage family such as broccoli, cauliflower, and kale. This type of preparation will increase the absorption rate of the herb. Try to use actual the pure form not a prepared curry blend, as these have been found to include very little of the active ingredient curcumin, which is what provides the wonderful health benefits.
In conclusion, turmeric is full of flavor and health benefits, it is generally well tolerated, and inexpensive. You can find a better quality and organically produced product from an ethic or health food store. Be sure to store it properly to maintain freshness and potency. If you do not care for the taste you can get an herbal supplement or multivitamin to obtain the same health benefits.
Nutrition Facts
| | |
| --- | --- |
| serving size: | 6 g |
| calories: | 24 cal |
| total fat: | 1 g |
| carbohydrate: | 4 g |
| protein: | 1 g |
| vitamin C, sodium, calcium, iron | 3%, .05%, 1%, 16% |