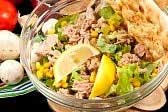 People try many different diets to lose weight. There are so many diets to choose from ranging from zone diets to low-carb diets. Losing weight is about cutting calories. You simply want to take in fewer calories then your body needs to maintain its current weight. Crash diets can work great at helping people lose weight in short period of time. Important note is that crash diets shouldn't be done for more than one or two weeks.
Types of diets
Now I introduce five crash diets which are the most interesting and work well, according to my experience.
Hollywood Diet
One of the best crash diet plans is one many Hollywood actors have used to lose weight fast. In this diet they only eat a few cans of  fish and a few salads a day. The diet is around 700 calories or so and is one of the well known method for rapid weight loss. The pounds simply melt off of your body.
Pros: effective diet that can be applied up to one week
Cons: every people should eat at least 1000 calories a day so this diet could be unhealthy
Liquid Diet

Crash diets that work also come in liquid form. In these crash diet plans you simply drink low calorie meal replacement shakes for your meals. You can drink these shakes 5-6 times a day and you usually get around 1000 calories a day. This is one of the best crash diets to lose weight with. It causes rapid weight loss, in some cases up to a pound a day.
Pros: safer diet, you can lose weight very quickly
Cons: possible yo-yo effect after diet
Low-carb Diet
Some people choose to go on low-carb crash diets. These diets accelerate weight loss by controlling insulin spikes due to the limitation of carbs in the diet. Due to it having low-carbs, you lose a lot of water weight really fast. Within days you can drop as much as 10 pounds of water weight alone.
Pros: fast weight loss
Cons: probably most unhealthy diet because of fast water loss
Vegetarian Diet

As you can see, there are a variety of crash diets that work. You can also try a diet that is basically vegetarian in nature. In this quick diet you eliminate the meats from your menu and just eat healthy vegetables and get your protein primarily from soy. These diets work great at helping you drop weight and are also extremely healthy. They provide enough vitamins and minerals to maintain a healthy body.
Pros: very healthy
Cons: this diet isn't for people who love meat (like me :))
Zone Diet
It recommends consuming calories from carbohydrates, protein and fat in a balanced ratio:
40 percent of your calories from carbohydrates,
30 percent from protein,
30 percent from healthy fats.
This diet doesn't result in the rapid weight loss of the other diets, but it is good nonetheless. You will lose weight quite fast, just not as fast as the above mentioned methods of dieting.
Pros: healthy and safe, wide choice of meals
Cons: slower weight loss, less effective
What is the most important
Crash diets to lose weight have got a bad rap in the media due to people gaining weight back. The only reason that happens is they go back to eating poorly. If a person goes on a diet and uses pounds and pounds of fat they should eat more healthy when they come of the diet. It is important that you watch what you eat when coming of a fast weight loss program. The last thing you want to do is start eating like you did before, that's what got you the unwanted weight gain in the first place. You can use crash diets to lose weight fast, just make sure you follow a sensible eating pattern when you get off the diet.